I've never been a big fan of the Death Korps of Kreig. They've always seem to me to be a great big money grab by Forgeworld and more power to them for it but I like my wallet how it is (only 1/2 empty.) It also didn't help that I've never really gotten the whole image of the Death Korps. The mindless obedience and numbered soldiers marching in ranks for suicidal attacks. Very 40k but also a great way to get killed. I prefer my guardsmen to have a bit more tactical know how.
Then I started learning a bit more about WWI.
NOTE: Not 40k, Strangely
For those that don't know, the Death Korps takes their cues from the fighting forces of Germany during World War One. For those not up on history, this is pre-Nazi Germany and they weren't some default cartoonish bad guy. They were, however, very aggressive and militant but most nations of the era were to one degree or another and Germany had a lot to make up for since they didn't come onto the international scene until late in the game.
In order to compete with the nations that had much more practice with warfare than them (France on land and Britain on the sea primarily) German focused on quality and artillery, to wild successes (and no I don't mean that to diminish the capabilities of the other nations at the time.) German soldiers were the absolute peak of discipline and precision fighting. The ability of their artillery were second to none save the best their enemies could field (and sometimes not even then.)
I remember reading stories of German soldiers on the march through Belgium (a mistake on their part) and having supply trains that moved with the army, handing out mail, distributing food, and relaying orders without really stopping, and kept the army moving at an overland rate that surpassed all but the most liberal expectations of their enemies. Soldiers would maintain parade ground quality marching...through almost the whole country. The level of precision and intra-unit coordination was recorded in a number of journals as unnerving in its detail.
In combat, the German soldier was well verse in the highest standards of marksmanship and bayonet skills of the era, something that would only be reinforced when the trench fighting would come around later in the war. Some of the guns they deployed had to be fired from three football fields away, lest the shock wave render the firer deaf. Despite that, it typically only took a few shots to get range on defenses that were considered invulnerable to all weapons of the era. Once the artillerists got range it typically only took one near hit to bring a whole bunker complex down on the heads of the people in it, to horrific results.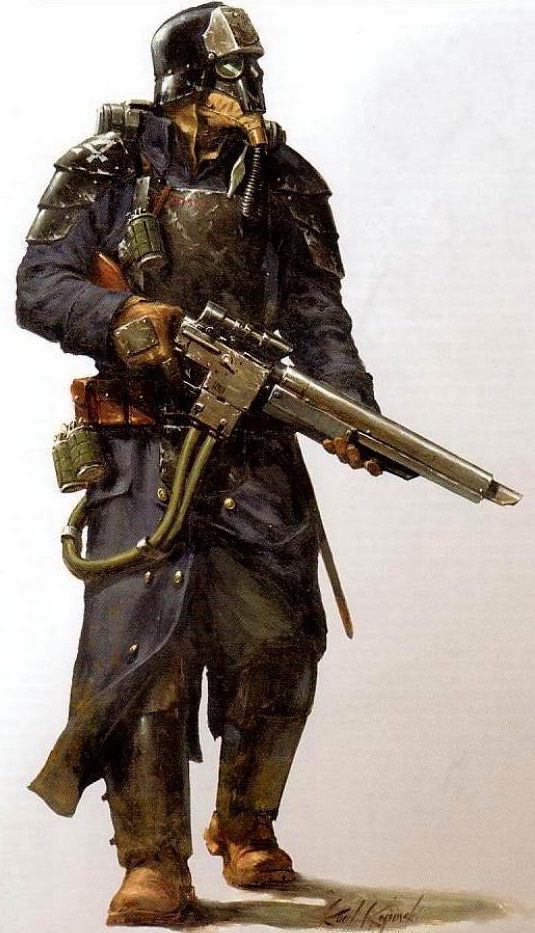 NOTE: Not WWI, the power cords are the giveaway
The Death Korps of Kreig that these aspects of the German WWI soldier to the extreme. Precision and discipline become robotic and inhuman in levels. Bayonet drills result in a weapons skill that rivals Astartes. Trench fighting means that typical infantry units won't utilize heavy weapons that need setup. Big artillery pieces become...well, it doesn't look like Forgeworld changed much there.
The skull masks some Death Korp wear are reflective of both the Death's Head Hussars (look them up!) and the Forgeworld enhancement of the real life counterparts reputation for unnerving precision to higher levels. The Hussars are also the inspiration for Death Korps rough riders, the Death Riders.
Before I come off as some kind of Germanophile, be assured that I'm not. Several militaries have a bigger place in my interest (Mannerheim, Alexander, Napolean, etc.) but I didn't know much about them until recently and felt like writing a post. For those wanting more information, I'd direct you to
Hardcore History
, a podcast by Dan Carlin. His current series is on World War One and is an excellent primer on Germany and its army in the early portions of the war. It goes into more detail than I care to here.
While I'm still a Cadian at heart, studying WWI gave me a new respect for the Death Korps that I thought I'd share. My only criticism is that the actual army of WWI Germany might be more effective in the field, assuming they could field the same numbers (Death Korps regiments are usually numbered in the tens of thousands.)