Welp, got me some infantry finished...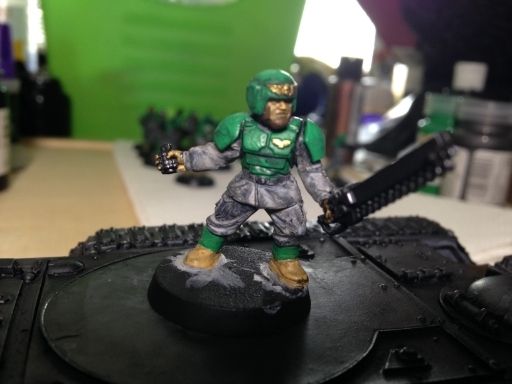 The Commander, plus a good sample of the overall, lowish, painting quality...
Ready to fail at hurting flyers. At least it fulfills the formation tax.
Company Command and Veteran Squad. Not the controversial deployment of Rig'ged pattern plasmaguns.
Up next: Three Veteran Squads with Meltaguns. That'll mean the end of my infantry painting for a while and I can go back to painting drab uninteresting tanks. I'm over half the points through my summer painting challenge here.
Painted Points:
Veteran Squad w/ Plasma - 105
Command Squad w/ Plasma and Aquila - 180
Exterminator Command Squad - 345
Two Demolishers - 340
Executioner Tank - 175
Hydra - 70
Total: 1215 (65.7%)
Unpainted Points:
Three Veteran Squads with Meltaguns - 270
Five Chimeras - 325
Armored Sentinel - 50
Total: 645 (34.3%)